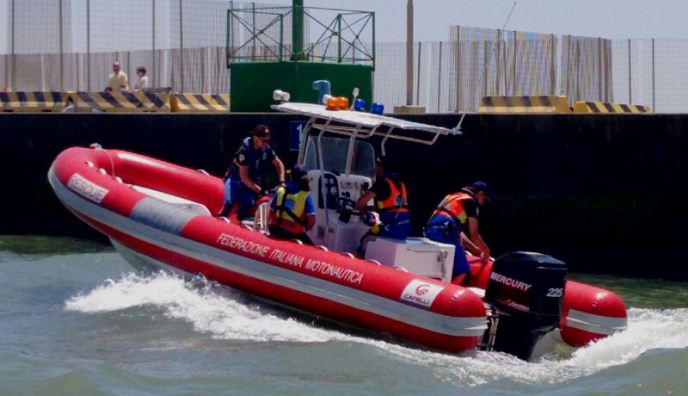 10 Giu

Italian Offshore and Endurance Championship – Fiumicino 7/8 June 2014

Primo appuntamento dell'anno con il Campionato Italiano di Offshore classe 3000 e il Campionato Italiano Endurance Boat Racing a Fiumicino (RM).
Condizioni del mare al limite soprattutto nella giornata di domenica cosa che ha causato parecchi problemi alle imbarcazioni e numerosi ritiri.
Nell'Offshore, a dominare è stato l'equipaggio dei francesi Avril Giullaume e Michael Dobouè, mentre nel Campionato Italiano Endurance, vittoria nella classe B-Sport per Luca Tagliapietra e Alberto Pascali. Nella classe B-Boat Production, vittoria per Eduardo Platero e Cristian Cesati. Infine il Trofeo Suzuki FIM Pro ha visto la vittoria di Davide Mantuano.
La prossima gara del campionato italiano Offshore sarà quello di Bellaria Igea Marina (RN) il 12-13 luglio, mentre l'Endurance Boat Racing farà tappa a Jesolo (VE) il 21-22 giugno.


Bad sea conditions especially on Sunday have caused a lot of problems to the boats and caused a many retirement from the race.

The Offshore race has been dominated by the French team composed by Avril Giullaume and Michael Dobouè. In the Endurance B-Sport Luca Tagliapietra and Alberto Pascali, in the B-Boat Production Eduardo Platero and Cristian Cesati win the races. The Suzuki FIM Pro Trophy is assigned to Davide Mantuano.

Next Offshore race in Bellaria Igea Marina (RN) on the 12-13 of July, while the Endurance will be in Jesolo (VE) on the 21-22 of June.